It has been a few months since the last trip, as a result of being busy with school, work and lacrosse. The truck hasn't moved since December, along with the camping gear being packed away for the winter, we spent many days preparing, getting the gear altogether, organizing and meeting with Bobby, the owner of Cascadia Vehicle Tents to get our new roof top tent!
Practising for our upcoming road trip in June, we are working on being more organized and packing lighter. A great rule to follow is: "if it doesn't have 2 or more uses, don't bring it". Of course this doesn't pertain to the essentials.
The trip got off to a rocky start, I lost the travelling cover to the tent, as it wasn't strapped down properly (stupid me) and the cast iron frying pan was no where to be found so a quick trip to Army and Navy was in order. We used a tarp to cover the tent which had already become soaked due to the rain...great.
As soon as we hit the dirt road, none of this mattered, we quickly started climbing the forestry roads up the mountains leading to breath taking views.
Our original plan was to camp at 10 Mile Bay before meeting up with friends the next day, but unfortunately we never found the site. One trail we thought might lead down to the bay quickly became very tight and steep to which we no longer wanted to attempt. There was no room to turn around or maneuver so reverse was the only option. It was a scary few minutes of sliding on roots, almost hitting trees and constantly loosing traction. It finally took a long full throttle (not something I like to do) to get ourselves out to which we breathed a sigh of relief. Sorry no photos of this, it was too scary to even think about the camera.
After numerous closed gates to a bunch of the small lakes, we settled down at 20 Mile bay, picked a spot on the waterfront and set up camp in the rain.
20 Mile Bay






The next morning we were dry thanks to our tent! The impossibility of starting the fire with wet wood added to the chilly start of the day. The situation was fixed with hot chocolate and peppermint schnapps!
20 Mile Bay South Beach
After a visit the night before from a local that lived on the lake and a mean park lady in the morning, we decided to head out rather early. The destination for the trip was Lookout Lake, a small remote lake that is supposedly great for fishing. We followed the back roads map and set off hoping to be first to the lake. The trail became increasingly more difficult and we opted not to test our luck again. Our friends soon joined us and we gave it another go. The taller trucks went ahead but soon ran into too much snow.
After a quick discussion we agreed to go to 20 Mile Bay, it offered us a place on the lake and reception to communicate with friends about where to meet us.
North Beach






South Beach
We stayed here for the next 3 days doing the usual bonfire, BBQ and over consumption of water with
hopps!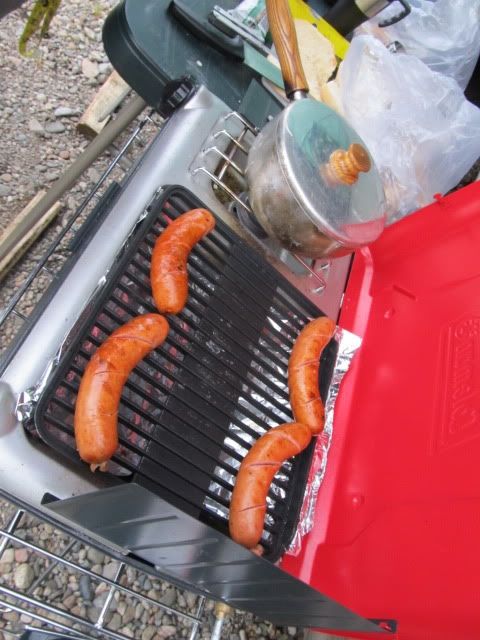 Polish Sausages
Slow cooked for 4 hours!
All packed up!